A Healthy Approach to Home Cleaning
"Perago" in Latin means "to complete the task." Our company Perago was started with a mindset of innovation to help you complete the daily tasks of keeping your home clean and germ-free.
We want to help you move quickly through life's tasks so you can make time for the things that matter most to you--the people and activities that you love.
Our Focus
We are committed to designing the best products that will make life's tasks easier and more convenient. We design products to help clean your home more efficiently and effectively without harsh chemicals.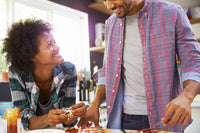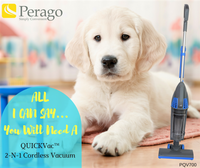 The Best Cordless Vacuum
Puppies and Perago QUICKVac 2N1 just go together!  This fabulous cordless vacuum gives you full suction power for over 35 minutes. Lightweight, compact, powerful.  Easily glides from floor to carpet and also transforms into a handheld vac.